Varicon Aqua and Ostrea Koster AB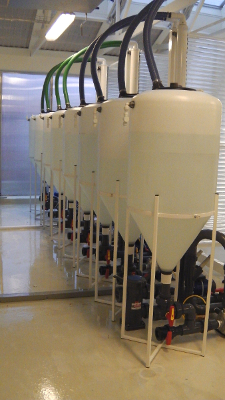 A modern shellfish hatchery located on Sydkoster Island, produces a combination of the native Oytster Ostrea edulis and Crassostrea gigas.
Over the preceding 6 years Varicon Aqua Solutions Ltd has supplied the hatchery with a range of products and services which include our range of Cell-Hi nutrients in addition to BioFences which underpin the live feed production of a range of marine algae & diatoms for larval rearing and nursery stages. In 2008 two BioFences were supplied and installed followed by a further investment in 2010 for an additional two systems.
In March of 2014 the supply of an additional 4 BioFences was implemented in conjunction with a full service and upgrade of the 4 previous systems. All manifolds were replaced and all photo-stages fitted with 2.5 Kilometres of glass tubing to improve the light transmission and significantly increase the lifecycle of the photo-stage elements.