Varicon Aqua supporting academic R&D
Varicon Aqua & Academic Collaboration
Varicon Aqua has been involved with many academic and professional research institutions over the years, adapting our developmental processes to the fast paced and dynamic aims of the research community. Each project is specific and bespoke, providing a range of challenges to our design team. Many of these design innovations find their way into the next generation of our PBR systems, making our Phyco-range of photobioreactor systems among the best in class.
Our customers have also expressed their satisfaction with the supporting and advisory role we play in many research endeavors where we implement an honest and direct approach to consultation. This disposition has instilled confidence in our customers to deploy our novel laboratory and pilot scale systems; the Phyco-Lift and Phyco-Bubble reactors. Whilst our experience at larger scales can help laboratories transition from the laboratory to larger pilot scale production using a system like the Phyco-Flow.
Collaborative Projects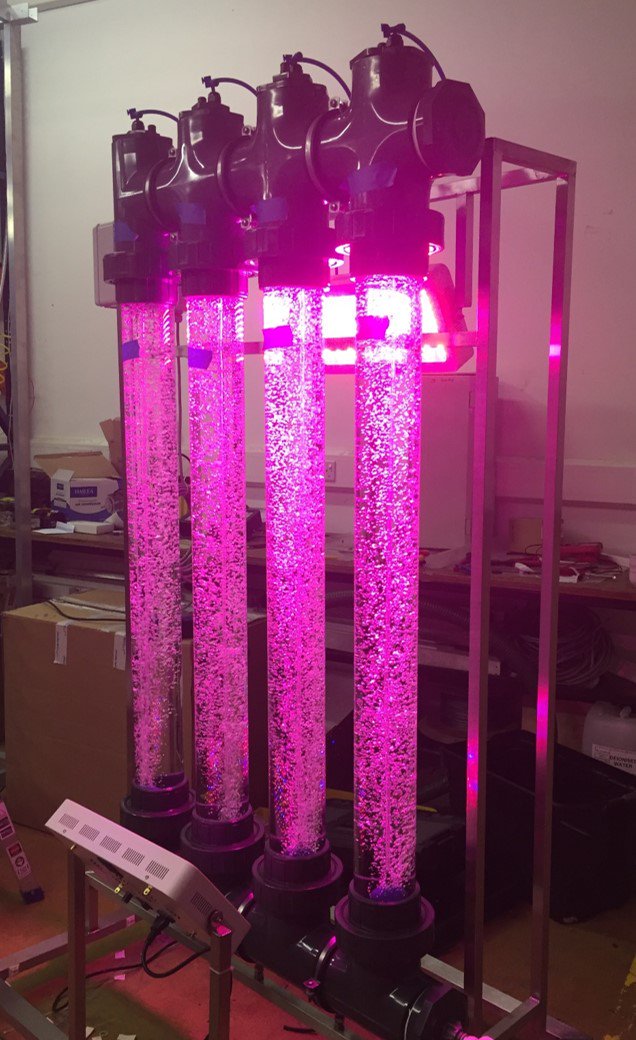 Supporting the scale up of GM organisms at Plymouth Marine laboratory:
Dr. Mike Allen is a Microbial Biochemist at PML, and an Honorary Fellow at the Universities of Exeter and Bristol. Varicon Aqua works closely with Dr Allen and his team to offer support in the development of their broad research scope. His research topics range from academic pursuits regarding the role of viruses in the ocean, to practical applications of marine microorganisms in bioremediation, biofuels production, and novel photobioreactor technologies. Current research topics involve the use of microalgae as a source of novel agricultural bioactive molecule to be implemented during crop growth, improving yields and mitigating the impact of harmful growth promoting chemicals currently used. Dr. Allen is also part of a team developing a pilot biorefinery for lipid manufacturing from algal biomass, providing an environmentally and economically viable alternative to the use of crude oil refinement for energy or chemical production. Read more about Dr. Allen and his research at here!
Dr. Allen's Testimonial
'In the last 5 years, we have seen our relationship with Varicon develop from technology and consumable providers to research enablers, providing in-house knowledge and expertise that is demonstrably second to none. Their candid/sincere approach and outstanding biochemical engineering capabilities have firmly established them as a key strategic research partner in my portfolio, establishing confidence in their novel photobioreactor products, such as the Phyco-Lift and Phyco-Bubble for scale-up in academic research. We see great potential in their robust and reliable intermediate scale systems for moving to large scale systems. '
Supporting Environmental Research at the University of Sheffield:
Dr Jagroop Pandhal is a Biological Engineering lecturer at the University of Sheffield, specialising in quantitative approaches to understanding the ecology of microbial environments. By observing the protein signatures within microbiological systems, it is possible to develop a true picture of ongoing metabolic processes and therefore elucidate the interactions between microbes. Varicon Aqua have support ed. Dr Pandhal's research by deploying robust scale-able technology in the shape of the Phyco-Flow. This allows for specific environmental control whilst also investigating wastewater treatment using polymicrobial communities comprised of both bacterial and algal species. This mixed consortium can then be used to produce biofuels, fertilisers, and animal feeds, lessening the impact of agriculture on the environment, improving water quality and reducing the impact on human health. Read more about Dr Pandhal's research here!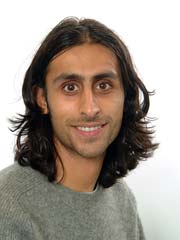 Dr Pandhal's Testimonial
'I have been aware of Varicon Aqua for 5 years, following their progress via conferences and personal communication from all members of the Varicon Aqua team. Further personal collaboration has highlighted Varicon Aqua's capabilities in photobioreactor design and construction, adaptivity to circumstance, and honesty to their customers. They have proved an invaluable asset in this wastewater treatment project, having undertaken projects of this nature before. I will buy from them again.'
What's Next?
We look forward to supporting our current clients, whilst also developing relationships with new academics and researchers to promote discoveries within the algal biosphere. Our bespoke approach to photobioreactor design is able to accommodate for any project specifications, so please browse our website or send an email to variconaqua@variconaqua.com today, and see how we can support your research!